Set Name: MINI Lego Star Wars X-wing Starfighter
Set Number: 30051
Piece Count: 60
Year Released: 2010
Price: $3.49 (U.K. Unknown)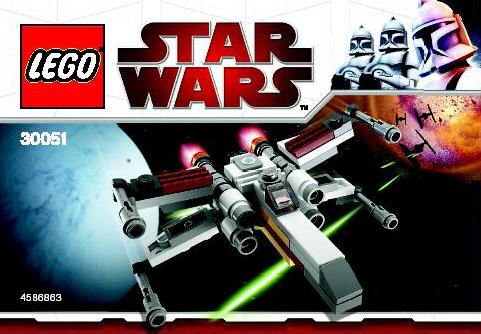 New Interesting Pieces: 1x3 Plate:
This set is good for those of you that like minis or like clip pieces (This one has several). It has a variety of colors and closely resembles the original starfighter in my opinion.
Brickset Reviewers wrote:If you live in the U.S. and don't have this set, you don't know what you're missing out on.Seriously, get to your nearest Target store now!
and
Brickset Reviewers wrote:This is an awesome impulse set.
I recommend getting this set, however i may be hard due to the fact that it was a Target
exclusive for Easter. I give it an overall rating of 4.5 stars due to the small window of when it was available.
Comment below if this helped you or if you agree/disagree.