Dutch sent Seven and Mil back to camp to tell the rest of the survivors (Hank and Beartuar) of the rescue.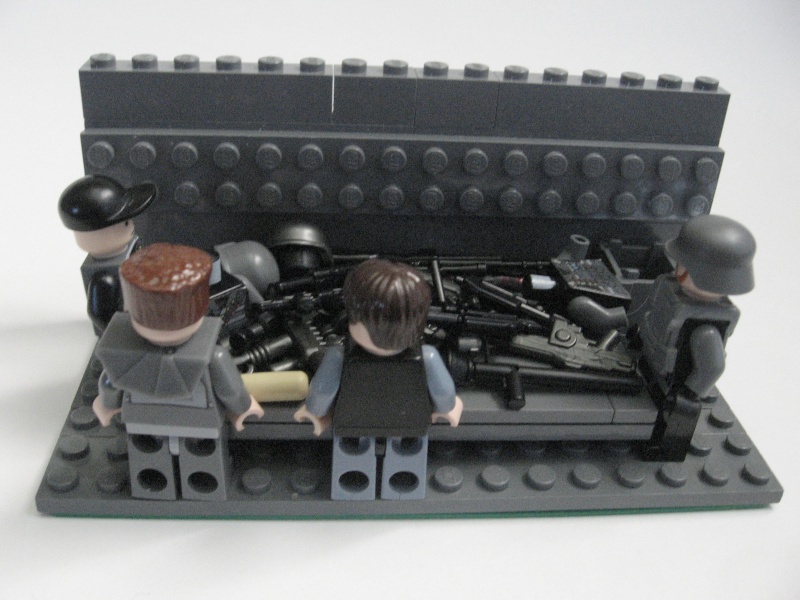 "That's a ton of weapons," C3 breathed.
"Alright, boys, pick your weapons."
Dutch – Camo M24 & Baseball Bat
Hazard – G36
Denal – SPAS-14 Combat shotgun
Darman – XM8
Anne – M107
C3 – Type 99 LMG (BA LMG)
TMP – PPsh, P90
Seven - Apoc SMG
Hank - RPG
Beartuar - G36
Mil - M16
If anyone is unsatisfied with their weapon, PM me and we will work something out.
The Prophecy
After they had picked out their weapons, they started walking back to camp.
"What's up with the new lid you're holding?" Piece asked Dutch, who had found a fedora. He obviously liked it; he replaced it with his years old baseball cap. Piece never found Dutch without that cap, and now he was replacing it.
"Get a good look, boys and girls. This is probably the first and last time you will see my bare head."
Jaws dropped. Dutch was bald, but there was more than that. There was what looked like a scar- no, a
birthmark
on the back of his head, saying only 2 words: BRICK ARK.
"I never knew what it was about," Dutch said, donning his new hat. "Probably some piece of destiny sh*t. never believed in that."
Everyone continued to stare at Dutch. "Maybe it had to do with the Brickpocalypse," Denal said quietly. "Maybe that's us. Brick Ark. Maybe we're supposed to destroy these zombies and bring peace back to Earth."
"You keep on dreaming," said C3. "We're in sh*t so deep we forgot what the sun looks like."
"Whatever you say," replied Denal, and they continued walking.

* * *
They were about half a mile away from the camp when they saw Darman run toward them, bleeding and limping heavily like a injured bum begging for alms.
"T-t-they're g-g-gone. All g-g-gone. Mil, Hank, S-S-S-Seven, a-a-all of them," he sputtered, blood spraying out of his mouth.
"It's ok, son," said Piece, putting a hand on his shoulder. "Denal will get you fixed. The rest of us will investigate."
Piece, Dutch, Hazard, and C3 sprinted to the flaming camp, probably set off by a knocked over candle. They found 3 skeletons, all bone.
"Zombies. I knew they would be back." Piece kneeled down. "Mil was loyal to me, my best friend. Now he's gone. And I never got to say good-bye."
A single tear rolled down his cheek. Piece was usually stoic, often hiding his emotions. Weeping meant a lot.
Now it was Dutch's turn to put a hand on Piece's shoulder. "We'll get them. Maybe Denal's right. Perhaps one day, we will eliminate these freaks of nature."
* * *
Dutch and Hazard set up a makeshift tent using some old shanty roofing, similar to those used in slums before the Brickpocalypse. Now it was the best roofing one can get.
It was a restless night for everyone. Anne was crying nonstop, and Denal was beside her, comforting her. Hazard and Dutch were busy getting supplies and making more temporary shelter. C3 was digging graves, and Piece just sat on a stone, looking at the bodies.
The skeletons did not leave his sight until the following morning, when they were buried.
I am basically getting rid of the inactive members, as they are both wastes of pieces and time. If they want to rejoin I can always find a way.....